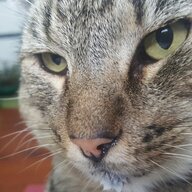 Joined

Apr 30, 2019
Messages

5,679
@Daisys and Diamonds

are you from Auckland?

I heard that all of NZ is going into stage 2 lockdown again and Auckland stage 3.

You alright??? I heard people are hoarding again!
thank you @mellowyellogirl and
@AGBF
i got this emergency alert last night after Gary had gone to bed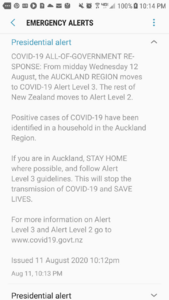 ironically i was on my Bruce Springsteen forum and an Aussie friend had asked me about it 16 min earlier
we live in Wanganui on the west coast of the North island about 3 hours north of Wellington
im feeling very anxious
we had gone 102 days with zero community transmission. this family have no links to the boarder or managed isolation/ guarenteen facilities. a primary school is closed for a deep clean and two work places are effected but do not do customer facing work - i get a feeling once they finish contact tracing they will find the link from the workplace contacts
i just don't understand how living on an island this could happen as people quarenteen on arrival and the boarder is closed to all but citizens and a few essential workers
im very worried about going into lockdown with the general elections so close
it would seem the health ministry and powers at be have planned for this and im sure lessons have been learned from Melbourne but its real scary
People everywhere have gotten complacent
its only Auckland on stage 3 - which is basically lockdown plus your grandma and kids of essential services can go to school
im very angry and upset over the panic buying
the countdown online site crashed last night and the police had to close some supernarkets in Auckland due to overcrowding
humans are stupid and selfish
we do not deserve the bigger brain.
what part of shop normally don't people understand ?
i was always able to buy loo paper last time