I've been wanting to get larger studs that the 1 ctw studs that I've had and worn for years. As you all know; however, as the diamond gets bigger, the price increases exponentially. I came across these on Instagram and purchased them. The centers are estimated to be 1.75 cts each, with each halo added another .25 cts of diamond weight.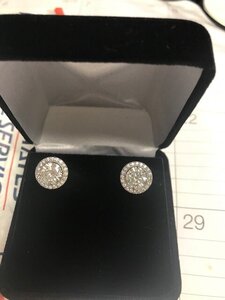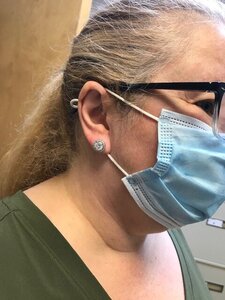 When they arrived and I opened the box, I noted how pretty they looked. Size didn't seem to be an issue. Once I put them on, my first response was "Oh my, they're huge, waaaay to big for my ears". I don't have small earlobes, either. Due to the way they are sitting, it also appears as though my piercings are too low in the lobes.
One of my other issues is that they're 14k white gold and may have nickel in them, as my lobes are strangely hurting a bit.
The seller suggested reworking them to separate the center diamonds and make them into stud earrings and make the halos into jackets. If I keep them, that would be the route I would go. I'd love to use gemstones or other precious stones in the center.
I'm asking the following:
1. Are they too big as they are?
2. Do you think as simple solitaires and separate jackets this would work better.
3. Are they so big that they would be perceived as fake?
My ex saw them on me and called them "pretentious". Other comments have been positive.
Last edited: