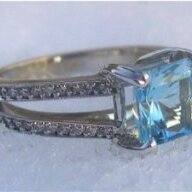 Joined

Mar 4, 2005
Messages

31
**UPDATED WITH PICS**
I'm getting excited - this is finally looking like it's going to happen!
Long story short - my DH proposed to me with this beautiful split shank setting (Danhov) but I was adamently against him ponying up a few grand on a diamond, because I wasn't sure that's what I wanted. I thought about an aquamarine, but everyone (friends/family) seemed to think I'd regret not having a diamond. sigh. So I've been walking around for almost 2 years with a CZ in my setting, trying to decide what I wanted to do...(no, no one knows this although I'm sure it's obvious to those who look, and it's actually a little embarrassing not being able to admit it. But as far as I'm concerned, it's no one else's business if it's real or not!)
I digress. I finally decide aquamarine it is...we were married in March, and both of our birthdays are in March. It's a special stone to us. And I saw a setting on here that was similar with a blue topaz and the blue just cinched the decision for me. I love it!
I contacted Michael E and he's custom cutting a stone for me, and I'm just SO FREAKING EXCITED to see the finished product!
So: now's the tough part. Choosing the stone. I have one I'm leaning towards but wanted to see what others think.
Michael's description of the stones is below, and my setting will be in the next post. Thanks!!
"The deepest color, large stone on the top would cost about
$800 when finished and be as deep as I've ever seen aqua, BUT it has some
wispy inclusions throughout the stone which would make it impossible to get
an eye clean stone from it. Like wise the best stone on the right has
inclusions which can't be cut around. The stone which I have labeled "Use
this one" is the stone that I would choose if I wanted the best combination
of color and clarity, as it is loupe clean. The cost for this stone would be
the $400 that you've already paid."