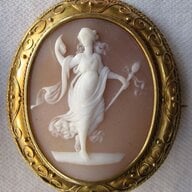 Joined

Apr 17, 2002
Messages

4,076
My mother gave me her mother's engagement ring as an engagement present. It's a deco ring with a geometric arrangement of 30 sidestones, varying in size from teeny-tiny to small, with a larger stone in the middle.

My grandfather gave my grandmother the ring in 1929, just weeks before the stock market crashed. Whenever I look at the ring, I remember him and my wonderful grandmother, a woman with a great heart and exquisite taste.

But does the ring's age and beautiful deco setting add to its monetary, not just sentimental, value? Will an appraiser need to take the stone out to appraise it? Would this damage the ring? Are there appraisers who are better than others for old jewelry? If so, how do I find them? I'm in New York City. And is there any other advice anyone can give me about getting this ring appraised?

Thank you!