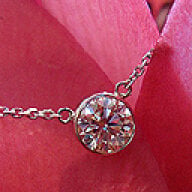 Joined

Oct 30, 2002
Messages

31,003
So today I called up an appraiser that is local to me that I found referred from Pricescope. Lots of great diamond credentials, 30+ years, a Master Gemologist, etc. Spoke briefly with her, and then told her what we wanted to bring in (our 1.23c G VS1 not-quite-the-best-technical-cut stone purchased a few days ago) to have appraised. Asked her what she does for the appraisal, what reports etc. She doesn't do BrillianceScope but does
IdealScope
(is this good enough?), and she doesn't do Sarin reports because she doesn't have a machine-which is okay as we have the Sarin results from our jeweler's wholesaler. But she said she would do a cut quality appraisal as well and map out the diamond somehow.
So when I filled her in on the characteristics of the diamond, namely that the table was 62% and the crown angle was a very shallow 29.9..she completely flipped out. She said it was a horrible cut and that we shouldn't buy it. Oh, did I forget to mention we did already? Apparently to her I did. So once she hears that, she starts asking me questions, like where did I get it, why did we buy it, she hopes we got a good deal, etc. I filled her in a bit, but she really was feeling like this was not the best purchase, before even seeing the diamond. She spouted the 34.5 ideal crown angle numbers, and said that the pavilion was too deep (the depth was 56.9..is that too deep for a 29.9 crown angle?). I told her the HCA gave it a great brilliance score and she said that of course it was brilliant, it would shine tons of white light, but have no fire at all inside.
Anyway--after the call I was very disturbed and filled in the boyfriend on what had transpired. He of course freaked out as well because making the final decision to purchase this baby was really his idea as he loved it, even despite the strange measurements and characteristics. The fact that it might really be an 'undesirable' has him very upset. Anyhow, after I tried to calm him down, we discussed arrangements to get the diamond from our jeweler and drive it over to the appraiser a few cities away (in CA thats far!).
So we'll do that this weekend. She will appraise the stone next week and let us know her findings. I am very interested to see what she finds. I am still disturbed about the black area under the table, as from leonid's light return jpg it looks as though that area will never reflect any light back up to the viewer, which is disappointing. Then there's the shallow crown and possiblity of chipping (we are not using a bezel setting..). However, the diamond was beautiful, so I don't know how BAD it could really be. She called it something that started with an 's' but I don't recall the name. Basically she said it was bad.
Anyway--as I babble on, my concern is that she won't really be objective in appraising the diamond now. Because I've filled her in on the characteristics, it sounds as though she is very 'by the book', which I guess is good for an appraiser to be, but I don't want her to be biased against the diamond right off the bat because it's got a large table and a shallow crown. Am I worrying for nothing? Should we just have her appraise it and then look at the reports vs. stressing over what she says without having seen the diamond?
Needless to say there is alot of drama going on around this, and my poor boyfriend is just ready to be DONE with the diamond shopping because now he feels he made a mistake in his choice. I feel bad that the diamond he chose might not report well, so I am hoping it does, but I'm also kind of hoping it doesn't, as those hard results from the reports would be what it would take to look a little more for something a little more 'ideal' which would be my preference. We have agreed not to stress about it (well not verbally anyway!) and see what the appraiser says after receiving the diamond. The thought of returning it was not discussed when he made the purchase, but as this is a jeweler we have a connection with, I am sure he would be understanding if we wanted to put that amount of money towards something else if the diamond does not report well--esp if it appraises for under what we paid.
Anyhow, we shall see. But what are your thoughts on the appraiser's first impressions, and should we be this worried? Could it be that she is going to be biased or too strict, or is that what we should really want from an appraiser? Is she just going by the book or are the original stats that scary? I remember what CutNut said (aka avoid!!)..but took it with a slight grain of salt esp when reading other posts about shallow crowns being less undesirable as people originally thought, etc.
As always, thanks in advance for listening to my rambling! I think I create some of the longest posts here!