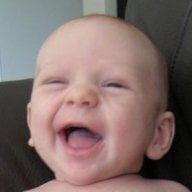 Joined

Feb 27, 2006
Messages

3,136
Or so my future father-in-law claims.

My FMIL was with my FI when he went to Quest to pick up my engagement ring. My FFIL and FMIL had already been talking about upgrading, and she liked the guys at Quest so much that I guess it just sealed it. They got a new center stone, and added sidestones to match a five stone ring that she already had. She usually wears the new ring on her left hand and the five stone as a right hand ring, but they look beautiful together on her left hand if she wants to wear another ring on her right hand.
The ring is 18K yellow gold and platinum. I''ll ask her about diamond specs tomorrow -- I was so busy taking pictures that it somehow slipped my mind. She''s actually had it for several months, but this is the first time I''ve been able to take pictures.
Just a warning -- this thread will be very photo-intensive.