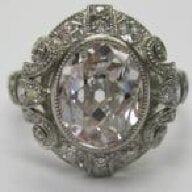 Joined

Jun 6, 2010
Messages

6,865
My niece is turning 13 in May and will be celebrating her Bat Mitzvah (a Jewish rite of passage ceremony). I'd like to get her a piece of jewelry to mark the event.

Requirements:

Necklace or earrings
Budget $500 give or take
A piece that is appropriate now, but that will still be wearable into adulthood
White or rose gold
Diamonds (OEC a plus!), pearls or durable gemstone is great


I've been searching on eBay, Loupe Troop and Jewels by Grace, but I feel like I'm not coming up with much and know that you all are masters at finding those "needle in the haystack" pieces.

Thanks for your help!!