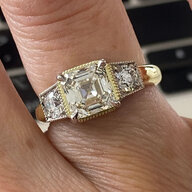 Joined

Jun 25, 2019
Messages

234
About a year ago when I was a complete diamond novice (compared to being a relative novice now), I walked into a local pawn shop and couldn't help but notice a lovely emerald cut diamond going at what seemed to be a great price (say 450 USD). It was 1/2 carat, G coloured and VS1, mounted on 10K white gold. Perfect condition and in my newbie enthusiasm, I snapped it up. A few weeks later, I was wearing my emerald cut to another pawn shop whose jeweller was a British lady. I told her about my purchase and she asked to see it. Once she saw it, she happily told me that I had a Millennium Cut diamond that Goldsmiths of UK produced for the year 2000. She told me to have a look through a loupe (I didn't have my own then!) and look for the disco ball effect of the cut. I later got a loupe and could see the Goldsmiths hallmark etc. on the band so I was pretty excited. I did later read that the Millennium Cut had a mixed review (here's an old post ->
https://www.pricescope.com/community/threads/millenium-cut.67554/
) and it's not going to be valued in the same way as a regular emerald cut.
Anyway, I love it. I have no plans to let it go. I got some good lighting so took a photo and video for those interested.
Anyone else out there with a Millennium?
YouTube - My Millennium Cut