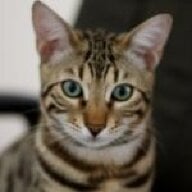 Joined

Jun 4, 2008
Messages

6,893
Date:

2/10/2009 4:51:04 PM

Author:

Dreamgirl

I''ve had a sort of starting point at wanting a 1ct. After joining PS, I actually thought anything around .65 was nice. But then I decided that was too small so I raised that standard to .75ct. But then I thought that was too small too so I raised it to .90ct. Then I decided I''d be happiest with a 1ct+ lol. So I guess I downgraded then upgraded back to where I started in my head.

So......I''ve had something similar but within the same ''size'' range and not anything outrageous. I''d really be happiest with a 1-1.50ct. But I hate to sound bratty and selfish. I don''t really know what size I will end up with (it could be much smaller for all I know) but I will take it for what it''s worth...

ETA- Living these days with the awful economy sure doesn''t help any on the size either...
I hope I''m not coming off bratty too! I don''t mean to be - I just think it''s a funny phenomenon, lol. DG, what''s your ring size? It''s definitely going to be a Tiffs ring for you, right?