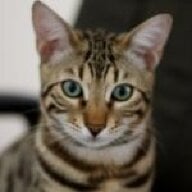 Joined

Jun 4, 2008
Messages

6,893
Early onset Diamond Diminishing Syndrome that is!

Poor BF. Early this summer, right after discovering PS, I wanted (ideally) a 1.3-1.5 ct. ring. Would have been happy with 1 ct. too. Fast forward to August. BF and I are in NY. BF and I go to Tiffany and Cartier to look at rings for fun. Decide that a 1.85 looks better. Mental upgrade to 1.85 lol. Fast forward a few months to January. BF and I are at my jewelers while in the neighborhood. BF and I decide (yes, it''s not just me - he decided too!) that a 2 ct. looks better. Again, mental upgrade. Fast forward to now. I have a new blue spinel ring. It''s 8.1 mm, nearly the same as a 2 ct. round diamond. Mom and I decide that I could go bigger, maybe to 2.5 ct. Oy vey!

Bear in mind that my finger size is....
a 3.5!!!
And we''re waiting on engagement until graduation. Fortunately, as long as we don''t screw up at our summer jobs and we get a permanent offer at the end of the summer we''ll be in good financial shape, but still, early-onset DDS anyone??
So anyone else out there who is in similar straits?