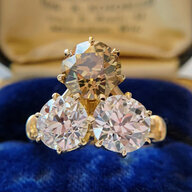 Joined

Jul 23, 2012
Messages

19,954
hair growth?

I shaved my head about 3 months ago..... let me just say, i looked amazing.


but now i want to grow it out to a blunt bob, and shoot its a todo. My hair already grows very fast, but its at that point that regardless of how many cm it grows it looks exactly the same. Anybody who has had a pixie understands.

I tend not to trust "miracle cures", and i knew what i was getting into, but if a lot of vitamin e or something would help, or argon oil, or something...im in a wedding in 8 months and i need hair for it lol I would say sense i shave it its already grown 2-3 inches, so its growing hast as is....but any help?