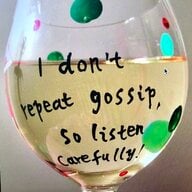 Joined

May 22, 2002
Messages

1,915
I was just thinking that Valentine''s Day was coming up & wondering if anyone was planning a proposal around that time. Also, if you celebrate Valentine''s Day, what did you buy your significant other?
As for me, I will be receiving my ring on the weekend of Feb. 7-9th. We''re going to Niagra Falls for a romantic get-a-away. No snickering for those that know about Niagra Falls. We''re staying at the Radisson Suites(is respectable) & of course we got the jacuzzi suite for the entire weekend.
I believe that Domino (from DT) stayed at the same place when he proposed to his fiance. As for my gift, he''ll be getting his Tag..Link Quartz watch. LOL I''ve mentioned this on Dt, but I''ll post it here. My bf kept saying in a joking manner, that it''s unfair for a woman to get a nice diamond to represent her engagement but the bf get nothing. Well, we went out one day & he started drooling over this Tag watch. So, I went back & bought it. He''ll be getting his e-watch the same weekend I get my e-ring.

I thought that it was only fair considering how much he spent on my ring. I would think a man would be proud to show off his e-watch.
haha
Judy