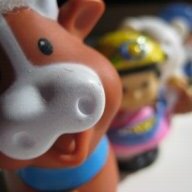 Joined

May 18, 2005
Messages

144
About 2 years ago I lost my ering/wband set and, after looking high and low for it, had my current rings made (which I love). Well, a couple of weeks ago I found my old set (of all places, under my bed!) and am trying to figure out what I want to do with it. I was hoping that some of the wonderful PS members could help me with ideas! I am thinking that I would like to take out the center stone and have a RHR made with it , and maybe the largest side stones set as earrings. I have also considered a pendant of some sort...If anyone has an idea I would love to hear it!
Now for the details:
.78 ct. princess (not a great cut, well before finding PS!)
.20 modified princess on either side of center
6 total .05 princess stones channel set down shank
Platinum
Thanks in advance for your replies!