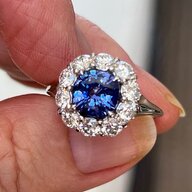 Joined

Aug 18, 2013
Messages

7,957
@NicoleNeedsHelp
-
Yes - that sort of head, where the diamonds in the halo/cluster are the same size as those in your band, or thereabouts. Just gives it better balance.
And yes - I've been to Singlestone a bunch of times and - yikes! $$$ They gave me a quote once for a pair of earrings that was...around 7k? I got them made by
Brian Gavin
Diamonds in the end for 2k, as I recall. They also gave me a quote for a necklace - diamonds-by-the-yard. The quote was over 22k - maybe 23k? I can't recall exactly, but it was between 22 and 23. I was providing ALL the diamonds and they were just going to set them, provide the gold and the metal work. Basically, they were making a metal necklace for my diamonds. 22k...