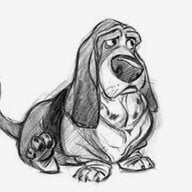 Joined

Oct 7, 2015
Messages

597
Hi,
I've had this ring for a number of years now but never worn it until recently, I think PS is helping me to appreciate more different styles of jewellery and develop my taste
Thank you.
It's been in the family for definitely one generation before it came to me and we think it belonged to a Grandparent before that...but we can't be sure! Do you think it could have been an old engagement ring?
I hadn't realised until I cropped the photos that it looks in very good condition underneath...I don't think my relation ever wore it, we certainly never saw her wearing it.
It only has one mark inside the ring "15" and nothing else so I don't know if that's the gold, or if it relates to something else.
I have a 'diamond measurement' plastic gauge but I think it's for modern round brilliant cuts really, on that the centre stone size is a little less than the 0.5ct hole (but much more than the 0.25ct) and the surrounding eight stones are maybe 0.08ct each but as they are irregular and irregularly set I'm only conservatively "guesstimating". I imagine it's not really wise to use a modern gauge to judge old diamonds but I thought that would help with an idea of its size/measurements.
I took it into a respectable jeweller recently, to ask about valuations for insurance but also just because I'm fascinated and would love to know as much as possible about it, but as he's so busy for the next month with a back log of appraisals I'll have to return another time. All he said was "it's very old and the diamonds are secure enough for you to wear it".
Any help would be great, thank you.