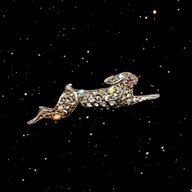 Joined

Aug 23, 2023
Messages

7
Hello everyone! After reading posts here for years, I finally took the plunge and made an account.
So, I was browsing one of my regular local "stuff" stores (antiques, art, clothes, jewelry, etc.) and they have a vendor who resells estate jewelery at very reasonable and often negotiable prices. Most of it is beautiful but rather un-noteworthy, though I have bought some beautiful solid gold pieces.
This time though, he had an old deco-ish platinum ring, set with small diamonds but centering the *sparkliest* deep scarlet ruby. Since he flips estate gems and jewels, the info he gives is fairly minimal. He claims it is a 1.34 carat natural ruby, but there's no cert, origin, or details outside of that. I don't think he certs anything because this a side hustle hobby, but the ring is so pretty. I am NO ruby expert, but I know this one leans a lil deep and maybe purple-y? But my goodness does it sparkle, so much so that it made me suspicious. What do you guys think of the color from what you can tell?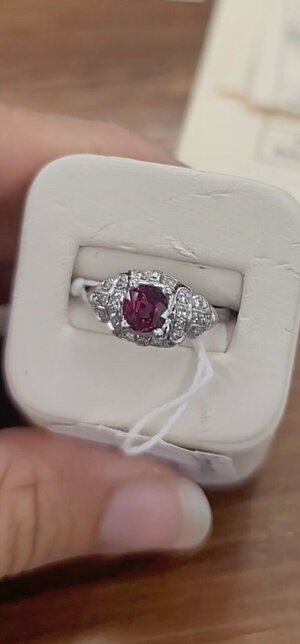 Priced at a cool $1500, which is enough to be expensive, but low for even a modest ruby of similar size.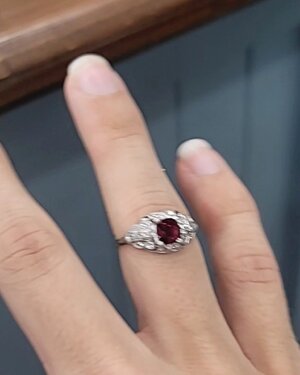 This and a diamond navette are the two most expensive items he currently has. I wish I had grabbed more pictures, but this is all I can give for now, and he doesn't have a regular storefront/phone. I can't get it out of my head, but the price seems to good to be true, even if its heated, but the shop and guy are good people.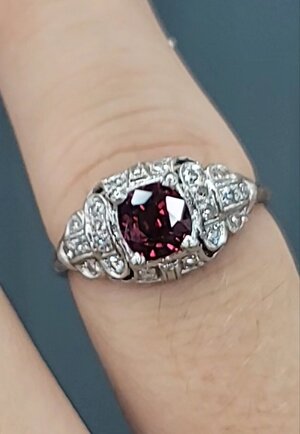 Would love to hear everyone's thoughts on the ruby itself! I keep daydreaming that its just some undiscovered heated burmese or thai ruby, but its just as possible its some heavily treated mystery stone too!