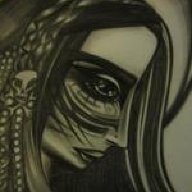 Joined

Nov 3, 2015
Messages

5
Hi,
This was found in a box of donations from a charity shop along with a Jade and Marcasite ring with an interesting setting.
At first it appeared to be costume jewellery and had a large pink/purple piece of glass mounted in it. But I kept it as I found the chunky silver setting and the coolness of the stone unusual even for good costume jewellery. The stone is ridiculously large so I found it hard to believe it was a real gem or of real value however when taking it out to examine it one night I pulled out a ring with a light blue stone instead of the pink I saw during daylight! Under different lighting it changes colour and can range from a light aqua with a hint of green, pale blue, pale indigo, lavender and pink. (Pictures with different lighting conditions to follow).
What I also find strange is that the purple tones are highlighted in daylight, pink tones in candlelight and blue only in warm / light-bulb light which is unlike any of the colour changing stones I have read about. Unless I have my Kelvins wrong and my lighbulb is not what I think it is.
I'm taking it in to a lab to get it looked next week but am wondering if anyone has any clue what the stone in this ring might be (if it is a gemstone at all)?