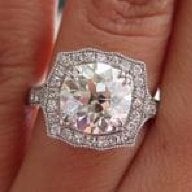 Joined

Jan 2, 2008
Messages

1,706
Earlier this year, I emailed Adam at Old World Diamonds to see if he had any neat stones besides the usual OECs/OMCs/antique cushions, and to my surprise and delight he had the cutest antique pear! I purchased it and fell in love with it, though I had no idea what I would do with it. I sat on it for awhile, hemmed and hawed, and went through so many setting ideas in my mind that it made me dizzy!
One day, I came across the photo of a ring that had been found on the Titanic featuring an antique pear center and OMC sides in milgrained bezels. It was love at first sight! I knew that I would be recreating that ring in some form, the only question left was how/when would I get the side stones, and when would I get it set.
Fast forward to August/September, and back to Adam at OWD I went. I described what I needed in terms of a matched pair of side stones for the ring, and he delivered (and delivered and delivered)! I think he sent me a total of 3 or 4 different pairs of sides to choose from, and he made the whole thing so easy and convenient. But how could I choose between all of the gorgeous sets!?
Enter Joe Escobar Diamonds, where Erik helped me to choose The One pair to go with my pear, and Maia was quick to begin sketching design ideas. We tweaked a little here, tweaked a little there, and eventually settled on a design to move forward with.
Finally, at the end of many weeks of giddy excitement and anticipation, my ring was done! It turned out perfectly and I'm so happy to have my very own Titanic ring!
The pear is a 1.22ct GIA K SI1 with faint fluorescence while the sides are .90ctw J/K OECs, for a total of 2.12ctw. The setting is done in platinum.
Sorry for the novel, but a huge thanks to Adam, Maia, and Erik for making this all come together! I cannot express how wonderful they all are!