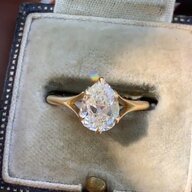 Joined

Nov 14, 2019
Messages

11
Hello everyone, I am knew here.
TLDR I missed out on a ring twice so now I'm looking for one just like it.

A couple years ago I missed out on an old cut pear set in a CvB ring, I think the setting is called Norah? The listing was on ebay. I'm pretty active on instagram in the jewelry community and recently one of my jewelry friends posted her new (to her) old cut pear ring and it looked identical to the one I missed out on. She and I were chatting last night and it hadn't even crossed my mind that it might be the same ring I had missed out on. She said the person she bought it from had bought it on ebay. I found the old photos of the one I missed out on and remembered some details about it. Turns out it is the exact same ring! Such a small world.
Anyway, I am still lusting after the ring. While I do have first dibs *if* she ever decides to sell it, I want to keep looking for an identical one.
Please let me know if anyone finds a CvB pear setting. I'm also looking for an old cut pear. I like chubbier ones.
Thank you so much!
P.S. I will add photos later. I don't have them on my new laptop yet.