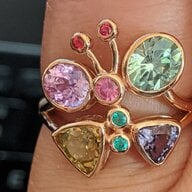 Joined

May 13, 2018
Messages

3,971
I'm also disheartened by the persistence of anti-Semitism in many parts of the world. But Missy, in East Asia Jews are very well-regarded. I'm sure this has to do with the veneration of scholarship and the many contributions Jewish scientists have made to the world (and the number of Nobel prize that went to Jews).
In China in particular, many people aspire to wealth and prominence, which they associate with the Jews. AIG is headquartered in Shanghai, and I believe that's because in the 1920s and 1930s, Shanghai was a safe haven for Jews fleeing anti-Semitic Europe. Jews hold an elevated status in Chinese intellectuals' minds because the Jewish contributions to the world are outsized, compared to the size of the Jewish population in the world.
About the red triangle...
It may well be that the original intent of using that symbol was not anti-Semitic, but after it had been pointed out specifically, a decent organization would have chosen another symbol, out of respect for the sensitivities of people who have a good reason to be wary. To persist in using such a symbol despite the unpleasant associations, putting it mildly, is to flaunt callous disregard and disrespect for the suffering of those in the Holocaust.
@Musia
, I know you don't see it, but just because you or I don't see something, doesn't mean it doesn't exist. I wish you would stop defending the Trump administration that's destroying good things about America. But that's a topic more suited for another thread.