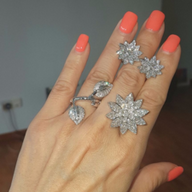 Joined

Oct 5, 2006
Messages

9,364
Dear PS'ers,
Finally I'm getting round to getting this stone (pic attached) set. I've had it for about 3-3.5 yrs now. This stone a bit smaller (measures at 6.7mm by 6.4mm if I recall correctly) compared to the rest of my bling, so I've been struggling to decide what to do with it. I mean this thing is not cheap and it's not something anyone should scoff at, but I just want to make sure that it'd be set into something that I'd actually wear and consistent with the rest of my bling.
I'm asking Victor to help me with this project. I thought if anyone can make it attractive, it'd be Victor. I've been exchanging emails with him and he's so easy-going, detailed oriented and very responsive. I've asked Victor what I should do but obviously at the end of the day, he won't impose his opnions on his clients. So I thought I'd ask you ladies and guys for some ideas how best to set this diamond.
I'm thinking to have the diamond bezelled (a very thin YG bezel, abt 0.50m each side), cupped underneath with yellow 18k gold, and finally halo'ed with white melee (which would add another 1.5mm each way). In total therefore, the diamond would increase by about 4mm (0.5mm for the bezel each way + 1.5m each way for the halo), making the total length of the diamond about 10.7mm or 11mm give or take a little. The stone would be set E-W (not that it'd really matter since it's pretty much square-ish).
So do you think white melee would be nice or would yellow melee be better? Or would that be overkill, yellow melee in addition to a yellow bezel? Or how about a double halo, a yellow one next to the bezel and a white one on the outside. Thoughts?
Also, I was thinking of putting additional stones to the sides, like small-ish cushions, traps or frenchies. Do you think this would be overkill also?
FYI, this will be my RHR and my ring size is 4.50.