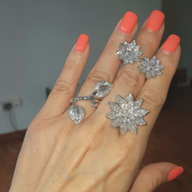 Joined

Oct 5, 2006
Messages

9,974
Would anyone like to help me with another recycle project?
I have several loose stones that I don't know what to do with. Most of these have been left to me by my late mom, so I treasure them very much and would like to be able to reset them into something I could actually wear. I've had them reset into various things already but ended up not wearing them, because they're far too small for *me* to be set individually or even in pairs. So far, I've already tried to reset the largest of these loose ones into bezelled earrings and then bezelled earrings plus jackets and still ended up not wearing them. I've also asked my jeweller to have them set into DBTY bracelet or necklace and they said that I would not wear it, because the diamonds would flip and I would also not wear them because the effect would not be "blingy enough" (their words, not mine,


).
So altogether I have (all are RB's, all are E-F colour, VS clarity, cut so so):
1) two loose stones of about 0.40-0.45ct each
2) three loose stones of 0.23ct each
3) three loose stones of 0.08, 0.10 and 0.12ct each
Potentially, I could even set these together with some or all of my 3-stone ring, which consists of two 0.60ct each side stones and one 0.90ct centre stone. The only problem is the two side, though of E-F colour, are Si1 clarity and the centre stone is H colour. So, I'm not sure if they'll be matchy matchy.
I also have another two 10 RB pointers, also estimated E-F colour, VS clarity, from my
JA
pear jackets which I may remove, because I am hoping to upgrade the pears some time later this year.
I'd prefer a cluster ring, if that's possible, though am not sure how it'd end up looking like!

. I don't think I'd want more earrings as I have quite a few pairs already, and I am not particularly keen on a necklace, though a pendant, if done tastefully, would be a possibility.
Thanks in advance. Any advice would be appreciated. Pics/ photoshop images would be particularly helpful.