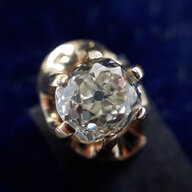 Joined

Oct 31, 2020
Messages

18
I enquired on the one suggested at Jupiter Gem and have had a response.. it is still available.

Here are some further vids and details.

Rotating, under natural light -

Rotating, under incandescent light -

On hand under natural light -

Described as "Very eye clean, under 10x magnification VVS clarity. Excellent cut, good luster"

Looks good to me? is this the one?
I like the colours as presented in the photo and videos. I can see peachy flashes while the overall pink looks pastel and fresh. It doesn't seem too orange, which I feel tends to "disappear" on most skin tones unless in halo settings. Personally I'm not put off by the windowing on this particular one, as I too often like seeing some quirks in gem cuts if the colour and clarity are good (do check out this new thread on "windowed beauties" for some examples if you haven't already -
https://www.pricescope.com/community/threads/show-me-your-windowed-beauties.262542/
). I wish the vendor had photos/videos of it in north-south orientation, though, so you could better see how the tilt window might affect it when it's set in a ring in that direction. May be worth it to request that or order it and see it in person? Looks like JupiterGem has a pretty reasonable return policy?
Also I think the elongated cushion shape would look super on her hand, so that's a plus for this stone. I would suggest looking at marquise/navette cuts as another possibility, since she has lovely slim fingers that can carry them off. My fiancé considered choosing a marquise cut for our engagement ring, but I had to dissuaded him as my fingers were more on the medium/stubby side (he went with an oval which was much more suitable for me). Although, judging by the way her nails are done in the photo, an elongated cushion or step cut may be the best fit...
Yes, honey just wants a ring on it!

Thank-you, so it isn't all bad!! I think that particular muted pink could've worked with a narrow gold band but as others have mentioned the cut isn't the best and there is a big window. A little more saturation would be great.

I will go back to the drawing board and see what I can find, I think she would prefer bit more pad like colour in honesty, although I'm sure she will be happy either way if you know what I mean. I will attach a photo of her hand to help identify skin tone. As she has slim fingers I thought a longer oval shape or emerald style would compliment. Let me know if you have any additional thoughts.
Such a pretty hand! The lighting looks a bit warm, but I think she has more or less a neutral skin tone? A peachy pink stone should look stunning on her. And I love the idea of pairing it with a gold setting - I see her watch is gold and it looks good.
Really hoping you'll find the perfect stone. As a huge fan of coloured stone engagement rings (mine was a wine red garnet paired with pale green peridots, in a yellow gold setting), I get super excited seeing unique e-ring projects. And pink is just wonderful and romantic - darn, if I had to redo my own engagement ring now, a light pink would definitely be a strong contender.