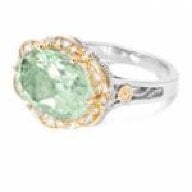 Joined

Aug 24, 2006
Messages

2,216
....in a GOOD way! Cross me off the list because I am finally engaged! I had a relatively short stint on the LIW list, but I''ve been around PS for quite a while. In any event my FI proposed on Saturday!!! We have pretty much done things a#%-backwards (we have already started planning the wedding). We also chose and purchased the ring together some months ago, but were waiting on final blessing from our parents and for him to actually move here where I live to actually get engaged. So after a couple of years long trans-continental relationship...we are finally living in the same place and getting ready to start our life together on the same continent!
Long story short...proposing (in the Western way) isn''t really part of my FI''s culture so I was totally expecting a really mundane "here''s the ring" type of deal. But I was completely surprised by what he did. We were both out separately on Saturday running errands and hanging out with friends. He returned home before I did and was acting rather strange. Like sitting there watching me eat, and not eating himself. This man will eat ANYTIME. When I first came in, he was upstairs and didn''t come down until about 15 minutes later. All the while he is sitting there watching me with this waiting expression on his face. I''m like "dude, what is your problem??? I know you love me and all but...geez." I suspect nothing. Finally he went back upstairs and about 10 minutes after that I followed to show him something. At the top of the stairs was a box like you get from the build a teddy bear place. And at first I was like, what the heck is this doing in the middle of the floor??? Then I saw the note...on which he had written some really wonferful things, and at the end asked me to marry him. Inside the box was the teddy bear dressed up like a groom with the ring sitting in some roses in the teddy bear''s hand. It was an awesome proposal and I gladly accepted!
And for those ladies wondering about the element of surprise even when you''ve chosen the ring yourself....it was still there for me. It was the perfect scenario! I will attach a few pics for your enjoyment.

Thanks for reading!!