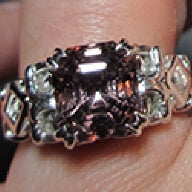 Joined

May 1, 2011
Messages

248
I'm not considering purchasing this but I have seen several of these "type" of stones.
I like the color of some of them, but they seem so empty, if that makes sense.
Is that just the way these are? Having never seen one in person, I'm wondering if it's just the cut
that makes it look this way and if so, why someone would cut it to look so flat? (If they are genuine spinel)
Just curious about it.
bluish spinel