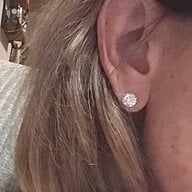 Joined

Oct 25, 2012
Messages

2,870
I knew exactly where to go when I decided to get studs for my daughters 25 birthday February 26 of this year.
ID Jewelry
...I contacted Yekutiel before I went into NY he knew exactly what I was looking for and my budget.
He was so upbeat and happy to see a picky pricescoper but what he had to show us was why he is so terrific.
Looking at vendors all over the Internet for my budget. I thought we were looking at .75 tcw maybe H color eye clean non certified stones .
What he had waiting for me was
1. Gia J color .81 tcw Vs1 hearts and arrows in our budget. When placed on white paper there was a definetely brown tone to the stones.
2. Hand Selected .81 tcw stones by Yekutiel not certified F color eye clean s11 hearts and arrows ..Whiter than white on the paper.
He took out his tool and showed us the hearts and arrows. We couldn't be happier . We are setting them in 4 prong martinis and he is sending them to us on Wednesday.
I tried to take photos with my phone and it just didn't do them justice. I ask them to send a photo when they are set and so I will post when I get them I hope tonight.
He said to keep the receipt and if she wants an upgrade that is always available.