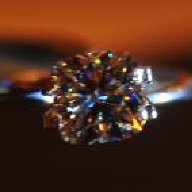 Joined

Jun 7, 2011
Messages

11
Good Evening PriceScope Members,
I am at quite a precarious position in my search for the "perfect" (i know everyone is in search of that "perfect") diamond engagement ring. I am in no definitive rush, taking my time and not being rushed. Also, I have not involved my significant other, call it old fashion or obtuse, I honestly believe that she will be happy with anything I get her.
All that being said here are my parameters. I have budgeted about 45.0K for the diamond.
I know the historical standard for diamond rings is round, but I really gravitate toward Cushion Cuts (***NOT Modified Brilliant Cushion****).
Furthermore, I have narrowed my diamond search down to two Hearts and Arrow Square Cushion cuts (from
www.goodoldgold.com
) and would like your all-knowing inputs on which way you think I should go....
Diamond 1 (I have it on hold with
Good Old Gold
)
2.63 G SI1 H&A Cushion $38,1000
http://www.goodoldgold.com/diamond/8298/
Diamond 2
3.8 H SI1 H&A Cushion $58,500
http://www.goodoldgold.com/diamond/7900/
I know current fashion is the pave set rings but I really like this "style" ring (I saw it working in Australia)
http://www.makersmark.com.au/jewellery/rings/diamonds/passion
I am aware that I would have to do a custom setting and I would most likely would pull out the "pink diamond" from the setting but I really like this setting, especially how visible the diamond is from the side
OK --- With all that being said ---
1) What do you think about the two differences? I COULD stretch my budget to get the larger diamond, but is it worth it? 20K for 1.2 carets and a loss of one grade in color....
2) When you are talking on the scale of 2.6cts and 3.8cts is it worth it to cut budget to go bigger or will the difference be minute.
3) How do you think my desired MakersMark custom ring would look with a H&A diamond? I don't have nearly the experience all of you have with diamonds but I think the single stone ring would look good with a H&A diamond but does the ring lend itself to one diamond or the other?
Thoughts? Questions? Prayers?
Thanks
~TS