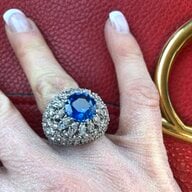 Joined

Dec 15, 2021
Messages

151
I didn't want to thread-Jack
@dk168
's beautiful new Chopard bracelet (stunning!!!) so I started a new one.
Seems as if Chopard is suddenly in the zeitgeist or perhaps it is coming back…I don't know but I recently found this piece.
I love the angular lines which are different from anything else I own and the craftsmanship is superb.
I'm relatively new to Chopard and am wondering why I have never seen anyone wearing a Chopard piece out in the wild???
Thoughts.
Can anyone else show us your Chopard pieces and tell us why it is such an under-represented brand???
It has been in existence since 1860!!!