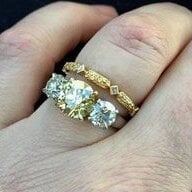 Joined

Mar 27, 2016
Messages

823
I'm down to the final two in my upgrade deliberations.
I ordered two (ok, actually three, but have already discounted one) stones to compare...they are similar, yet so different at the same time.
Stone #1: 3ct N vs2 AVC
Stone #2: 2.5 Y/Z si1 antique style cushion cut by Yoram for DBL
Honestly I am so fatigued from thinking about this. I have talked myself in circles over these stones and I just can't make up my mind! I love both stones in different ways, it's such a hard choice for me! I don't anticipate (and don't really want to) upgrade this in the future, so I feel a lot of pressure to get it right. I'm hoping you guys can help me talk through this!
Here's my thinking so far...
AVC-
the light play of this stone is INSANE (obviously). I could look at it all day. It has so many personalities and always has something to say. I wasn't sure if I was going to like it in person- I was afraid it was going to be, I don't know....too perfect? clinical? It's really not though. I'm not sure I'm going to love an N long term, so I'm considering custom cutting a slightly smaller stone in the J/K range. However, going off into the unknown like that when I have two very lovely diamonds right in front of me feels very silly! This stone is substantially more expensive than my other option. If I pass on the AVC, I feel that I will have missed my opportunity to "splash out" and spend the budget on spectacular diamond.
yellow cushion-
also has tons of personality, but in a different way. I still get the broad flashes and rainbows, but they are quite a bit different, and a bit more subtle. I'm a sucker for yellow diamonds, my original e-ring was a three stone with fancy intense pears. This stone for some reason seems a bit more organic than the AVC, I guess? I'm not sure how to describe it. My initial concern was with the clarity, being an si1 in an antique cushion- pretty borderline! I know this would be a deal-breaker for some. David said he didn't believe it would be problematic "in real life"-It takes the right lighting and looking for it pretty close to really spot it. I really don't notice it 99% of the time, but I still know it's there and I'm not sure how badly it would bother me long term. I think what bothers me more though is that it sometimes goes a bit dark in places in certain lighting? I am guessing this has to do with it being specifically cut for "yellow enhancement"...or maybe it's from it's current setting- I don't know. I am not an expert by any means. I'm not sure how much these things will bother me long term. The cut is kind of interesting, the facets are so broad you can really see deep into the stone. It is way more affordable than the AVC- the cost of the stone and resetting it to my taste would cost approximately the same as the AVC loose.
If I pass on this stone, I'm afraid I'll regret not buying something so different and unique, even if I didn't max out my budget on "stone" (the original plan was to spend the majority of the budget on the stone, and wear in a solitaire for now and reset to my liking later).
I suppose they're just different flavors of special....
I love the color and how unique the yellow stone is, there certainly aren't many like it, and cut by such an artist. And in spite of it's "flaws", I find myself really drawn to it.
The AVC feels a bit less unique, but more special for it's brightness and light play.
If I had just ordered either one of these, and either had shown up on the door, I would be thrilled! But choosing between the two is really throwing me for a loop.
What would you choose? Talk me off the ledge!