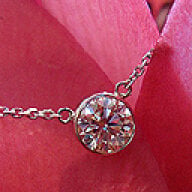 Joined

Oct 30, 2002
Messages

31,003
We were in Tiburon today and I stopped at this store we found last time we visited..called Old Gold (not
Good Old Gold
..but plain regular Old Gold!), where they normally have a few unusual older pieces, and very cool modern mens bands. My purpose was to price out the mens wedding bands..but of course I found myself straying to their shop window where they put the really eye-catching diamond items. Last time we were there they had a 3+ carat old mine cut diamond in a beautiful filigree setting that I tried on. Too big!
Today they had a gorgeous 3 carat ring from the 1920''s by Shreve and Co. Of course I tried it on, this thing was massive but it sure was beautiful! The stone was a modern round brilliant according to the saleslady, though I thought that Old European cuts were still more prevalent around the 1920''s timeframe than the true modern rounds, but it sparkled amazingly. However, the setting was the true beauty. I''m a fan of old antique settings, and this one was stunning. The band was very slim, about 1mm with light filigree all the way around, and there were three small bead set diamonds on each side of the shoulders of the ring. The stone was being held in the old-fashioned basket head, with pave diamond work all the way around in a very subtle way. The ring felt very fragile and light in my hands.
The piece was amazing. The saleslady told me that they can replicate the setting for $5k because they could not die-strike the setting, but rather would have to do it all by hand. The last time we were in, we had a great conversation about die-struck molds with the owner of the store. Fun!
One of the things that I keep noticing is that many of the old pieces from around the 1920''s timeframe have very thin bands, 1mm seems to be the rule rather than the exception. I love thin bands so I like this style, but how is it that back then it was acceptable for a 3 carat stone to be held on a thin 1mm piece of platinum? Our jeweler advised us against anything less than 2mm when we discussed our ring design with him. This ring we saw is not the first one I have seen with such a thin and delicate band holding up a huge stone and it obviously has survived 80+ years of wear!
Anyhow I wish I had a picture of the ring, but I didn''t have my camera with me. However, it was a gorgeous piece, and it could be yours for $30k if you are interested. If you are ever in Tiburon I highly recommend this small store in the downtown area, they don''t have many items, but what they do have is very unique and definitely worth a try-on!