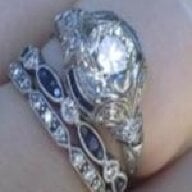 Joined

Aug 25, 2009
Messages

7,864
Does anyone ever have stone setting anxiety?

I just sent my FLY off to
WF
to be set and now I'm wondering if I'm doing the right thing.
I bought a .93ct fly cushion cut diamond recently. I debated holding on to it and trading up when more cash was available, but since this particular piece will represent the birth of my daughter I decided I wanted to set it and just let it be- no trade up, resetting etc. Since cushions face up smaller and well I'm spoiled by large CS I knew I wanted a double halo. I contacted all the usual vendors and was surprised at how high prices were- even with the rise in gold. Anyhow
WF
ended up coming in 1/3 less what other vendors quoted if not more. Plus they already had a double halo design that I really liked, but will be tweaking making it two tone, with a possible split shank, different proportions. I really do like the piece as to me it has a very art deco halo feel to it, however I'm nervous it won't translate well with my FLY and that even with the double halo the ring will be small. I think they said it would be about 12mm across with the double halo.
Does anyone else think I'm acting crazy? I just want to know others out there have anxiety when commissioning a more meaningful custom piece.