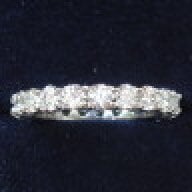 Joined

May 4, 2008
Messages

884
Hi All
So I went and picked up my gown yesterday ( it came in ) YAY!
I am a terrible PS''er as I have NO PICTURES> i do not even have a digital camera, LOL
FI has one and he took my avatar which is my soon to be wedding band/ but i dont have my own yet and can''t take pics of me in my dress w/ his camera obviously.
ANYWAY, we took my dress to the seamstress to get a quote for rmy alterations.
My dress is maggie sottero = felicity
http://www.maggiesottero.com/dress.aspx?keywordText=felicity&line=m&keywordType=any&page=0&pageSize=12&style=A407
the dress looks so different on me then here in this pic.
anyway - she is going to
1) take veil and applying velcrow to it and the tiara so they can easily attach
2) she is re-doing the cap sleeves and adding an elastic to them so they will stay in place all night (no falling off shoulders) and i can move my arms up and down freely all night
3) doing a 2 layer under bustle for me that looks like jstar''s friend in this thread
https://www.pricescope.com/community/threads/question-about-bustles.108986/
4) she is doiong the hem, taking about 10 inches to 1 foot off - im only 5''3 if that.
SO, the quote she gave me was $275. Is that high? seemed it to me, but i have never done this before. what do you guys thinK?