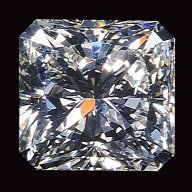 Joined

Dec 14, 2006
Messages

12
I''ve been researching for a while and I came across this FABULOUS site! Everyone is sooo nice and helpful! I love it.
Anyways, I know I want to get a square radiant diamond, but apparently, there are several options. Honestly, I''ve read through a lot of stuff, emailed the contacts for the diamond cutters, but I''m still very confused. What exactly are the differences between the "Original Radiant Cut" from radiantcut.com, the "Dream Diamond" from heartsonfire.com, and other radiant cuts? And are there other "designer" radiant cuts out there?

Of course I don''t get any straight answers from the sites. So here I am.... asking for your advice! Thank you so much.