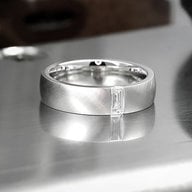 Joined

Aug 21, 2016
Messages

133
Hello PS!
The wedding has come and gone, so I figured it was about time to share some photos of the final pieces that Alistair made for our Big Day.
First up is my wedding band, which ended up having a 5mm x 2.5mm baguette (D/E VS) channel set in 18k w/g. My wife opted for scallop-set MRB melee of 2.2mm D/E VS set 3/4 of the way around (no photos of this one from Alistair).
In addition to the rings, he repurposed an heirloom OEC diamond (1.840 ct) and set it in a floret pendant with an open back. He used un-plated 18k w/g for everything except the prongs, which were rhodium plated. He used un-plated w/g for the pendant because the diamond has a tint (I think it was an L?) which ended up complementing the stone very well (imho). The pendant is on a very fine, 1mm "trace" chain in w/g that practically disappears when worn.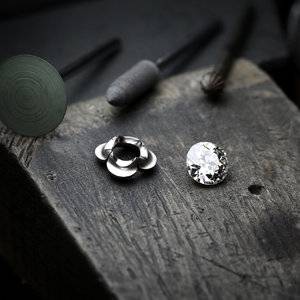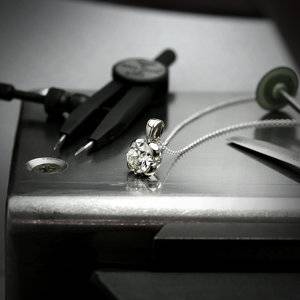 As I've mentioned elsewhere on PS, Alistair was incredible to work with and produces top notch jewellery. While we wish he was slightly more accessible from Sydney (to pop in for an inspection, cleaning or to drop off/pick up), I can't recommend him more highly. If anyone can recommend a good local shop in Sydney where we can have jewellery serviced, that would be much appreciated.
Eventually we will have some photos from our photographers to share as well. Until then, enjoy!
Cheers,
SC