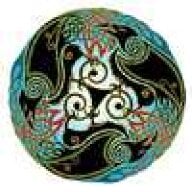 Joined

Dec 20, 2001
Messages

161
My ebay find has returned to me! My .93 K Pear has been set, and I''m wearing it right now. Pics attached. I posted it here instead of "show me the ring" because there are a couple interesting things about this setting that I thought folks might like to see. I hope the pics are good enough to illustrate my observations.
First, answering questions posted periodically about "will my J K stone look ok in white metal?", yes it will. Please note, low color stone fans, that when I was first shown the finished piece under the jewelry store lights, my K diamond glowed yellow like a big ol'' corn nut. But in every other lighting has faced up clear, white, or slightly cape.
Second, I specifically asked that Alishan Halabian (or his busy shop elves) please make certain that my pear point is protected in a V claw, or something simillar. At first, I thought this was not done, but upon further inspection, the prong is actually diamond shaped, with the sides of the diamond-shape wraping the sides of my pear point, and the top of this diamond shape folds over to insure the stone is secure. Very nice work there. Ditto on the custom wax job to make the basket.