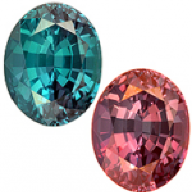 Joined

May 9, 2011
Messages

8
Hello everybody,
I have been reading many of the posts in the colored stones section and have learned quite a lot as many of you are very knowledgable (so I hope I won't sound like a complete newbie). My
hopefully
future fiancee and I have talked about engagement rings and we both preferred a non-diamond engagement ring. I read up on the mohs' hardness scale and realized that I should choose a stone that is 8+, which ruled out emeralds (7.5). I saw that my options were corundum (9), chrysoberyl (8.5), topaz (
, and spinel (
. In my searchings and taking into account her 2 favorite colors, green and purple, I fell in love with alexandrite. The fact that some alexandrites can change from green to purple is an excellent characteristic as well.
Thus, I've decided upon sourcing an alexandrite stone for fashioning into an engagement ring (size 6) and am in need of your collective wisdom. So I'll start by describing in more detail what I'm looking for:
I am seeking a natural, untreated alexandrite (over 1 carat) that is eye clean and exhibits a color change from green/bluish green to purple/red/reddish purple. As for shape, I prefer something with oval or rectangular dimensions in order to accentuate the slender finger the ring will go on, but I am more flexible in this department so long as the shape is symmetrical on both x and y axes (i.e. not pear shaped).
I have been searching the web for a little while now and I do appreciate how rare high quality alexandrite is, which is why I have started my search early and with plenty of time to spare. I honestly do hope that one day this ring might become a family heirloom so I know that this won't be cheap or easy to find. My back-up plan is to go for a natural, unheated color-change sapphire if I come across a truly stunning blue to purple specimen or if the alexandrite is just near impossible to find.
Now let me show you what I've come across thus far. Please let me know what you think about the quality of the stones themselves, their suitability for placement in a ring, and any comments about the reputation of the sellers. Also, if you can find some quality alexandrites that I haven't been able to find, please please do share:
From Mutlicolour:
Alex 1:
http://www.multicolour.com/detail/?/details/alexandrite/zx165ab/&930512007
My comments: I really like the length to width ratio on this stone but am concerned what effect the off-center pavilion will have and am not experienced enough to assess this aspect. The very rectangular length to width ratio of 1.48 is very appealing. Additionally, while the color-change is nice, I think that some other alexandrites have a more vibrant coloring overall. Also, the site mentions that the cutting could be improved but only by sacrificing a significant amount of weight.
Alex 2:
http://www.multicolour.com/detail/?/details/alexandrite/yax630aa/&930512007
My comments: Of all of the alexandrites I am listing, this is the smallest at 1.06 carats and could use some advice on what a visually desirable size would be for an engagement ring. The length to width ratio here is a very ideal 1.50. The color-change looks great and is quite vibrant but I don't find some of the pink hues to be as desirable as a red to purple hues. The stone also looks quite scintillating, but with only pictures to go off of, this is always hard to tell for sure and could use some advice.
From R.W. Wise:
Alex 1:
http://www.rwwise.com/products/id|255
My comments: I think that the comments provided on the webpage are a good description. My first concern is that the length to width ration at 1.13 is neither perfectly square nor rectangular enough and is at a weird in-between. So, I'm not sure how this would end up looking in a ring. My second concern would be to ask what effect the residual purple in the daylight green coloring should have on value. When I called Mr. Wise, he priced the stone at ~15 grand.
Alex 2:
http://www.rwwise.com/products/id|1547
My comments: This is the largest and most expensive of all the alexandrites listed. The length to width ratio is a more appealing 1.33 and thus appears truly rectangular rather than an awkward in-between. Compared to the previous stone, it appears to be a little less scintillating but the colors are quite solid. When I called Mr. Wise, he priced the stone at ~34 grand if I remember correctly
CC Sapphire:
http://www.rwwise.com/products/id|1040
My comments: This is one of the most scintillating colored gemstones I have ever seen. I looked up the cutter, Phil Youngman, and he seems to be the real deal having one many awards for his cutting of corundum. The stone is closer to square at a length to width ratio of 1.10 but is still visually seen as not square and could use some advice again on how this would look on a ring. The rich blue and the rich green are quite appealing. When I called Mr. Wise, he priced the stone at ~15 grand.
From Gemselect:
CC Sapphire:
http://www.gemselect.com/color-change-sapphire/color-change-sapphire-207116.php
My comments: This appears to be a very nice stone with good color change from what seems to be a purplish blue to a red-purple (although the color change appears to be less drastic in the video than in the pictures). The depth of this round cut stone is a desirable 72.7% and looks very symmetrical. While a gem report can be ordered, it makes me a bit more hesitant as gem reports are provided for all of the above listed stones. Also at 4.6 carats and $1,186 per carat price-point, I wonder why it is priced so much less than the 3.84 carat and $3,906 per carat price-point of the above CC sapphire (or perhaps the above CC sapphire is priced so much higher?).
From Wild Fish:
CC Sapphire:
http://www.wildfishgems.com/inc/sdetail/12743/12860
My comments: This stone does provide a gem certificate but it is from Global Gem Testing Laboratory in Bangkok, which I haven't seen as much of and could use some advice on their reputation. I see far more from the swiss GRS, AIGS, AGTA, and GIA. Also the pictures of the stone in purple-incandescent don't appear as appealing due to imperfections or dust on the stone? I can't really tell for sure. Also, in the same purple-incandescent photos, the stone appears a bit too dark with perhaps some extinction towards the center? Let me know what you think. Furthermore, The tone has a length to width ratio of 1.22 which appears to be rectangular enough. Also at 4.67 carats and $1413 per carat price-point, it is also priced quite differently than the R.W. Wise stone.
I also tried looking at Africa Gems (
http://www.africagems.com
) but they don't provide multiple pictures and I can't find any gem reports. Also, the verbal description of the stone color change sometimes doesn't even seem to match the little I can tell from the picture. I've also sent inquiries to Master Cut Gems (
http://www.mastercutgems.com/index.php
) and J. L. White (
http://www.whitesgems.com/index.htm
) about possibly sourcing an alexandrite and I'll let you know what they say when they respond.
So any and all help you can provide will be greatly appreciated!!!