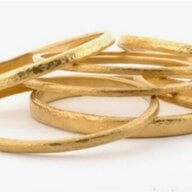 Joined

Jan 26, 2003
Messages

22,107
Lil Misfit|1314759038|3005992 said:

I am 7 years older than DH. When we started dating he was just shy of 21 and I had just turned 28.
...
when DH told his mom about me he said "I have a new girlfriend, but there's a bit of an age difference, so I don't want you to freak out". When he told her I was 28 she let out a sigh of relief and said "Thank God! I thought you were going to tell me she was 15!"
I have been happily reading this thread and had no intention of contributing my own statistics to it since they are so boring. (My husband is 7 months older than I am.)
When I read this story, however, I remembered how upset my husband's parents were that he was going to marry me...supposedly because I was so old! The reality was that my not being Jewish or my not speaking Italian may have been more important to why they were so upset. Not to mention having me sprung suddenly on them. But what my future father-in-law said to my (then) fiancé as we got on the train back to Paris from Genoa (in Italian, which I then did not understand) was, "Couldn't you have found anyone younger?"
I was 25 and my husband was 26!
Deb/AGBF