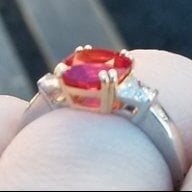 Joined

Nov 3, 2009
Messages

7,589
I am wondering about preference of certain colors and age.

I may be totally off the mark, but in my own case, I prefer very strongly saturated colors, maybe on the dark side. I have stones that are exception to the rule, but very few.

I do not remember how things were in my youth, but with age, color perception should change, because, unfortunately, our lens is becoming less transparent. It is a normal function of aging, but also the result of the loss of ozone in the atmosphere. One of the ways the sun can damage is is provoke development of cataracts if we do not wear very dark eyeglasses. I did not, in my youth, and although my eye exam is totally normal, I wonder if subtle processes have started.

You may not respond if this question sounds inappropriate, but since the moment I realized that the only way to assess the quality of the stone are my own eyes, the next question is, and how reliable are the eyes?

GIA books always mention the quality of assessment depending on an appraiser's health. Are there any studies on the eyes? How we respond to color? When we are more apt to appreciate the "neon"? What about "sleepiness"?