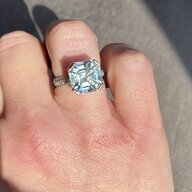 Joined

May 30, 2015
Messages

267
So it has always been my dream to have a 2-2.5 carat diamond solitaire.

I have been considering upgrading my 1ct Pear. I spoke to the jeweller who sold it to us and he said it is doable to trade with him on a larger stone but after reading some websites and some threads on here it seems you lose quite a bit in the exchange.

In the meantime I have been trawling auction sites, etsy etc. as here in Australia there doesn't seem to be the volume of jewellery in the USA and UK.

I have some time to wait before I can afford to get this ring (unless one comes up on a zip pay or similar)

I don't have a certain set of criteria really. I have a few shapes I don't want (marquis, heart,)

I am prepared to put up with more warmth than I would in my 1ct (which is F and VS1) and as long as it was fairly eye clean and sparkled also a lower clarity score because I am never going to be able to afford that size in a really clean diamond.

Some of the Art Deco pieces that appeal to me seem to have very reasonable prices. I have found 1-2 that are around the 4-4.5k AUD tend to be around the SI range for inclusions but not seeing them in person I am not sure how much they sparkle although I love the chunky facets on OEC stones.

I don't even mind if it isn't just a solitaire but has a central stone of at least 1.8.

So I guess this is a bit of a ramble but wondering if anyone has advice on where to hunt for something like this.