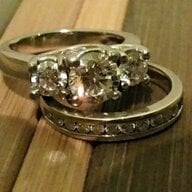 Joined

Jan 27, 2020
Messages

219
This setting suits an oval stone really well as well! Must have been a tough choice. I think it will be about getting the proportions right because the stone I've purchased is likely considerably smaller.

I'm thinking to have the jeweller draw up a design like this, one with a tapered plain metal band and a split shank and then decide which suits the stone and the finger the best!

Thanks!
I think that's a great idea. Good luck!
You know, I only vaguely remember that oval. I think it was almost twice the price of the champagne diamond, though. I remember it was beyond my budget, which made the choice pretty easy.