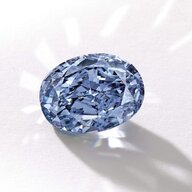 Joined

Nov 9, 2012
Messages

27
Hi All,
I hope everyone and their families are safe and comfortable at this time.
I've posted here before about wanting an eternity/ half-eternity band for my e-ring and narrowed my options down to a Kobelli ring that's very similar to CVB's Norah. However, I am terribly indecisive and especially so about shiny things, so I wanted PS's opinion on another contender. I am not based in the US so cannot try on to decide.
Please help me choose from the below. Both are similarly-priced and will have G-H, VS2-SI1 stones. I wear a Size 6. I will likely pair this ring with another band or solitaire later on.
Ring 1 - Original Kobelli Ring
7 stone, 1.24 cttw (each stone app. 18 pointers), 14kt gold
Pros:
Secure - 6 prongs for each stone
Beautiful antique setting
Full top finger coverage
Low profile
Should be easy to pair with a solitaire or another band later on
Cons:
Concerned that all those prongs on the end stones will be uncomfortable between my fingers
Don't particularly like round cut stones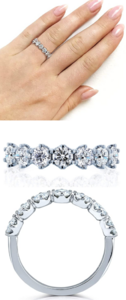 Ring 2 - 5-stone fancy cut band
5 stone, 1.04 cttw, (each stone app. 20 pointers), 18kt Gold
Pros:
Utilises my two favourite cuts - emerald & oval cut
Definitely unusual look
Looks very comfortable
Cons:
May not have full top finger coverage
Seems higher profile so may be difficult to pair with another band or solitaire later on

Thank you for your time and any advice!!!