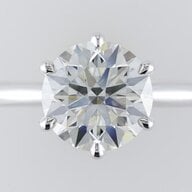 Joined

Apr 29, 2016
Messages

387
Hello,

I have been a long time lurker but am finally posting. I am looking to buy a stone to upgrade from my original 0.85 ct I color, SI1 stone. For a number of reasons that I won't bore you with, we are working with a local jeweler instead of trying to sell the stone and and purchase through an on-line vendor.

I have a basic understanding of the 4 C's. Today I was shown a stone that is GIA certified, 1.29 ct, VS2, K color, triple Excellent. The dimensions are as follows: Table: 55, Depth 61.5, Crown angle: 35, Pavilion angle: 40.8. From what I can tell these seem "good" (not as good as they could be I'm sure) and the stone looked beautiful to me.

My main concern is color. The stone faced up white, but from the side there was a very faint yellow tint. The stone will be mounted in a white gold setting with melee that is probably around I in color. I compared the new stone to my old stone and it is slightly warmer. My old stone never looked at all yellow to me, from any angle. Budget is a consideration and the price is right but I'm concerned if the color might bother me once the wow factor of having a larger stone wears off.

My questions are, from the information I have provided, do you think that this is a nice stone? I'm wondering if I should have the jeweler order some stones that are say, J color but SI1 or SI2 in clarity. I know it comes down to my own preference, but would you prefer a K VS2 or a J SI1, if size and cut were similar?

Thanks in advance for any help!