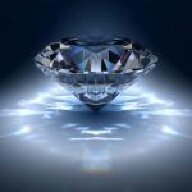 Joined

Jul 11, 2011
Messages

28
Hi everyone,
I have learned so much from the great information on this site.
I think I may have found a good stone. What do you all think? Are the twinning wisps, internal graining, feather, and indented natural something I should be worried about? (Is an indented natural really bad?) What about the faint fluorescence? I'm thinking about putting this in a halo with G melee. Would an I be too warm? Any other issues or questions I should have answered before buying?
Are there alternatives that I should be considering?
ROUND BRILLIANT
Measurements: 7.67 - 7.71 x 4.73 mm
Carat Weight: 1.71 carat
Color Grade: I
Clarity Grade: SI1
Cut Grade: Excellent
PROPORTIONS:
Depth: 61.6%
Table: 56%
Crown Angle: 34.0°
Crown Height: 15.0%
Pavilion Angle: 41.0°
Pavilion Depth: 43.5%
Star length: 45%
Lower Half: 75%
Girdle: Medium to Slightly Thick, Faceted
Culet: None
FINISH:
Polish: Excellent
Symmetry: Excellent
Fluorescence: Faint
Comments: Twinning wisps are not shown.Internal graining is not shown.