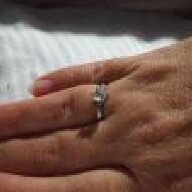 Joined

Dec 3, 2010
Messages

15
This ring is one of my favorites not due to its design (being very simple) or the monetary value. The stone is a IF 1.08 carat Achroite, that I retrieved from the tailings at the Himalaya Mine in southern California. At first I wasn't sure what I had it was larger and shiny with a facet-able side and very clear and striated, clearly not a quartz so I put it in my pile and took it home to see what it was. After much deliberation with my gemologist friend he determined it was a colorless tourmaline. So I sent it out with the rest of my finds and it came back absolutely beautiful, and seemed to pick up a light pink/peach color when around skin in incandescent light, but it doesn't do it in florescence or sunlight (where it turns just bright white). I had it set in a Tiffany setting on a sterling silver band as what my wife calls her throw-down ring. She loves wearing it but will wear it in place of her wedding band and engagement ring when we travel abroad or to areas that are not always so nice. While I love that she wears it a lot.... I am not so fond of her throwing it down if we get mugged....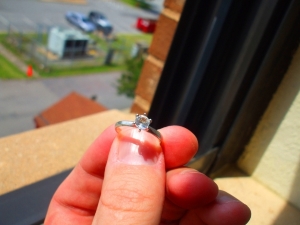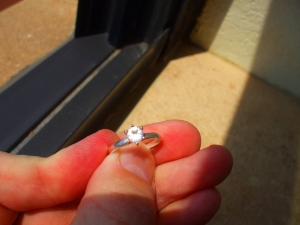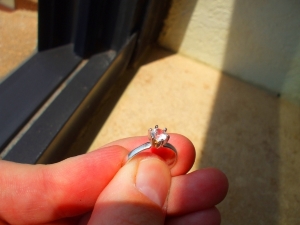 My favorite is when we have it cleaned in malls (Tiffany settings get filthy) and the laddies are like what a pretty diamond
........ then i ask them "Would you put a IF clear diamond in a Tiffany setting on a sterling silver band?", I never seem to get an answer though.
Docski
-lover of all things shiny and not so new