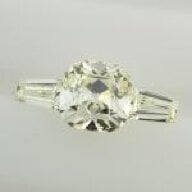 Joined

Oct 16, 2008
Messages

151
Hello!
I''ve a quick question that I''m struggling to find an answer to and hope I can pick the brains of you cut perfectionists out there - what is an acceptable level of deviation on the crown and pavillion angles in a H&A AGS000 (it is a
WF
ACA
by the way)?
The diamond I''m looking at has a variation of 0.6 degrees in both the crown and the pavillion. the crown ranges from 34.7 - 35.3 (average 34.9 on the Sarin, 34.8 on the AGS cert) and the pavillion form 40.4 - 41(average 40.7 on the sarin, 40.6 AGS cert). Is this anything to be concerned about or is this quite acceptable?
The other stats for reference are:
0.80ct
Depth 61.2
Table 56.9
Crown% 15.1%
Pavillion 42.8%
HCA 0.8
Thought and opinions greatly appreciated!
Thanks in advance