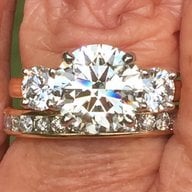 Joined

Jun 23, 2005
Messages

15,382
Yesterday was my 34th wedding anniversary -

! My DH took me to Tiffany's to have another look at a wedding band I had tried on there about a month ago. I had the Tiffany Bezet and loved the ring but it hid underneath of my ering so I never felt that you got the full effect of it. I had toyed around with resetting my three stone so that a wedding band wouldn't set so flush with it. However, I like my setting and the only two reasons I would do it would be a) to have a donut or something for the center stone so a wedding band wouldn't sit flush and b) to change the prongs on the sidestones to three instead of four. However, the prongs on the stones are so small that in the end I figured you wouldn't see much of a difference. I was also afraid that a center head that would create a gap would also have a seesaw effect so that it would create 'wobble' when next to the wedding band.
So, I decided to change the band. This is the Tiffany channel set band, 18 kt. yellow gold, .78 carat, size 5.5. I did not want big stones to compete with the ering but I did like the small ribbon of white diamonds as opposed to the mainly yellow gold Bezet. I love the contrast of white diamonds and yellow gold but like more of the first and less of the last. This seemed to fit the bill and hubby loved the look so it was Happy Anniversary to me!! It was a wonderful day - who doesn't love a special gift from Tiffany?
Here are a few quickly snapped pics - not the best quality but hopefully you get the idea!