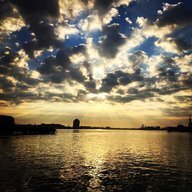 Joined

Mar 26, 2010
Messages

116
@Tonks

,

@FlashyFlamingo

,

@caolsen

,

@Acinom

,

@caolsen

,

@GlitterInMyHair

,

@Sparkles88

,

@D&T

,

@Luvallgems

,

@GearGirly

,

@Alex T

,

@PreRaphaelite

,

@MissGotRocks

,

@meely

,

@yssie

,

@KristyDarling

Thanks one and all for taking the time to post your gracious comments. I hope I didn't miss someone...

@yssie

, I searched for the stones for maybe 6 -8 months? Hard to recall exactly as my search morphed over time. I initially thought I could match individual stones but I came to realize the folly of that endeavor...I ended up looking for pairs and found these at auction. As

@KristyDarling

said, searching for pairs is not for the faint of heart, and buying at auction takes it to a whole other level!! To add to the challenge this pair was collet set, so I couldn't see the girdles, get a true weight or accurate size. But, they had the shape and faceting I was looking for, so I took a chance and bid.
Was it a live auction local to you or online? Just curious. What kind of info was presented/available in the auction listing. Thanks!