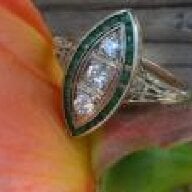 Joined

Aug 5, 2010
Messages

12,739
Many of us buy from BB, and focus particularly on his spinels. I recently bought a few stones from John Burleyson and wanted to point out a particular stone he has:
http://gemrite.com/cubecart/index.php?act=viewProd&productId=184
I bought this stone because it was one of those impulse buys, but it wasn't quite the color I was looking for (don't ask me what I was looking for because I don't really know; like I said it was an impulse purchase and I do not plan on buying any more purple spinels).
That said, I wanted to point out what I thought were remarkable features of this particular stone and urge anyone who is in the market for a purple spinel to consider this one. The color was slightly lighter or less saturated than his photo, but it really is pretty accurate. What the photo does not capture is the amazing luster and sparks given off by this stone. I have quite a few spinels and not one is such a show off. Its as if someone told this stone it had to be purple, but it keeps forgetting and showing its true colors. In any bright light condition, especially direct lighting, it has fabulous sparks and flashes of blue, red, pink and peach. It reminded me of a diamond or demantoid because of the sparks.
I looked at it, fell in love and knew I was going to keep it. I slept on it (no, it wasn't under my pillow
), and realized I did not need another purple spinel, despite the great cutting, and that it would just sit in my gem tray. This stone needs to be set as a ring, as it will catch the light and put on its show at every movement of the hand. It needs to go to a good PS home!!!