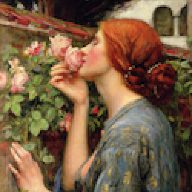 Joined

Feb 2, 2015
Messages

3,558
A more-or-less Hypothetical situation: you have 15 graduated OMCs, small but lively, and want to salvage them from an existing piece to make a bracelet for your rose gold stack. You click "compose" to write an email to your favorite jeweller to ask for a quote, and attach the photo below, and a shot of the stones, with MM measurements for each. And then, suddenly, you blank.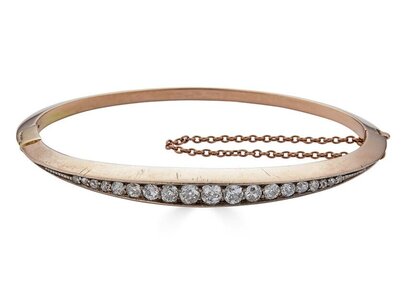 Source:
Gray & Davis
You've learned that specificity is everything in custom work, and want to be very very careful how you describe the job. On the inspiration source's website, it's described thusly: "14k rose gold late Victorian knife-edge bangle set with graduated row of old mine cut diamonds. Hinged closure."
Have you specified enough? Do you (other than measuring your wrist JUST where you want this bangle to rest) have more to add? Are the words, combined with the inspiration, clear enough to get a good result?
Maybe the bracelet should - or should not - be hollow?
Maybe the safety chain should be a certain length? A certain millimeter thickness?
Maybe the little dentile at the far edges of the stones should be graduated as well?
Maybe the hinge closure should have a small safety 'arm & bead button' instead of a safety chain?
Maybe the finish should be satin/semi-matte instead of high polish?
Maybe there should be an engraved message inside?
Maybe the diamonds should be set slightly below the lip of the knife edge, for better protection? But not too far below? How far?
How many prongs between the stones? The photo suggests two shared. Is that good? Safe?
How would you describe this to ensure you achieve something close to what is in the photo? My words have failed me due to brain drain, and I appeal to the wisdom of far better minds than my own! Thanks in advance.
p.s. No rush. Hypothetically, it's a September project start, for completion by the New Year.