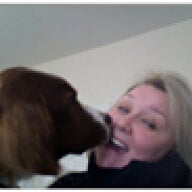 Joined

Jan 5, 2009
Messages

2,655
people seem to be getting into stackers, so i thought i''d throw up just a couple of photos of some of mine. i''m sorry these photos are so rubbish; it''s overcast and raining here (AGAIN!!), i was using a point and click and one hand - NOT easy! so anyway, having said all that...
from the top; 1) 12 x 6 pt, platinum, antique (1910), 2) 18 kt yellow gold, .25ct square cut stones, 3) 2..03 ct, full round, asscher eternity - Facets, 4) Tiffany legacy platinum band, 5) 18kt rose gold, 26 x 5 pt stones - very nice stones - custom made in LA, 6) 2.68ct (20 x 13.5 pt stones) Facets eternity, 7) Benchmark 18kt white gold, .24ct 16 x 1.5 pts.
sadly, as always it seems fo rme, the light does not do these rings justice - but they really do look stunning together...
and here they are!